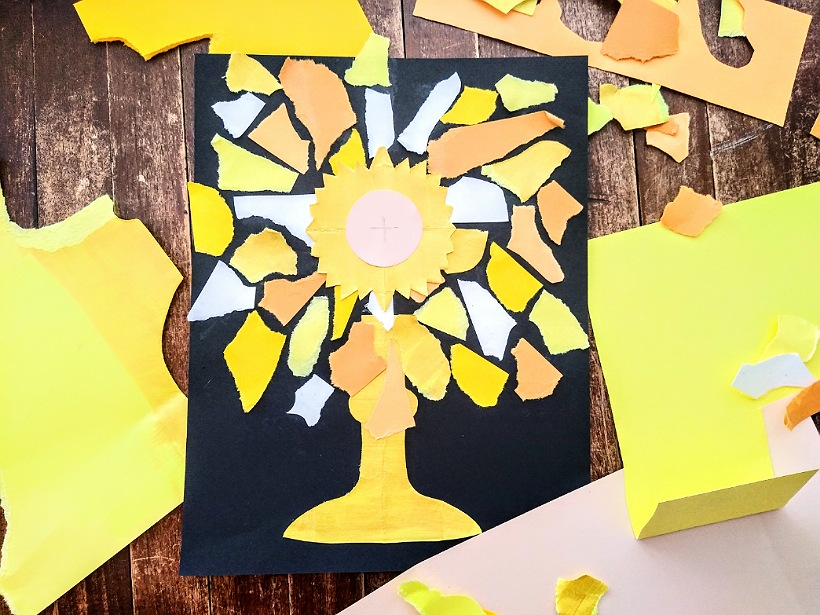 This Friday, parishes around the Archdiocese of San Antonio will be preparing for the Archdiocesan Eucharistic Congress, many of them with Eucharistic processions and Adoration scheduled for all or part of the day preceding the Archdiocesan event being held at St. Mary's University this Saturday. All of it is actually part of the Eucharistic Revival being celebrated throughout the worldwide Church. What better way to get the kids ready for such a gorgeous event than by letting them make their own Monstrance? It's also a great First Communion craft for those kids who are preparing in faith formation this year, especially if it happens to be a week they're headed to Adoration.

How to Make the Easiest Torn Paper Monstrance
There are three different versions of this craft, depending on how much you want to put into it. We're going to start with the easiest and work our way backwards until we get to the easy one in the main image.
The quickest way to a Monstrance craft is through this printable PDF. Print one for each kid. Then, supply them with brown and yellow crayons or colored pencils (because using both makes it look like gold), several small pieces of various colors of yellow, white, or golden paper, and a glue stick. For the scrap paper, don't forget about tissue papers and wrapping paper. These can help cut down on expenses if you're working with a large group and you don't already have a stockpile of scrap to work with.
Ask the kids to color in the Monstrance first. Then, show them how to make their Monstrance even more beautiful, so that the graces Christ wants to give us through His True Presence in the Eucharist look like they're spreading even farther. Instruct them to tear pieces of paper and glue each one in a collage. Don't forget to add a small cross to the middle of the circle so it looks more like the Eucharistic host!
How to Make the Easier Torn Paper Monstrance
Ok, it's not easier than the one above, but it is easier than the one below. Maybe we should have started with the easy one . . .
For this one, the kids get to practice they're cutting skills. Use the same download from before. This time, you can print it on white paper so they can color it, or on a goldenrod or yellow so they get to skip the coloring. Then, have them cut it out. Supply them with a dark-colored paper to go behind it, those same multi-colored yellow and white paper scraps, and a glue stick. Again, they're tearing pieces to make a collage that expands the Monstrance.

How to Make the Easy Torn Paper Monstrance
If you want to highlight cutting skills even more, or let the project take a little longer, you can use these printables instead. There are three pages. One has the multi-point start, the next, the host, and finally, the Monstrance base. Each piece can be printed and colored or printed on goldenrod or yellow. Then, every piece gets cut out, the yellow and white paper scraps get torn, and the pieces are all glued onto a dark background to emphasize the light of Christ. One helpful trick on this version is to fold the star into quarters by lining up the larger points. With it folded, the kids can cut 1/4 of the points to complete the entire star. It won't be perfect, but it will be far less frustrating.
How to Make the Easy, Free-Hand Torn Paper Monstrance.
Instead of starting with a PDF file, just cut the shapes yourself. Folding the paper in half on whichever part you're creating makes achieving that symmetry a cinch. You can also trace something round you happen to have to get that circle for the host. Then, just do the same thing you did above – tearing scrap paper, and gluing on all the elements.
What if I don't have gold or yellow paper?
Paint it gold, find tissue paper, find gift wrap, use that gold cover from the giant boxes of chocolate at Costco, or just use white. In the free-hand version in the main image, I painted my paper. Hobby Lobby carries scrapbook sheets of gold 8.5×11 paper for 99 cents each, they have gold foil tissue paper for $1.50, and a big roll of gold wrapping paper for $5.99. Oh! Or get Ferrero Rocher and save all the wrappers after you eat them!