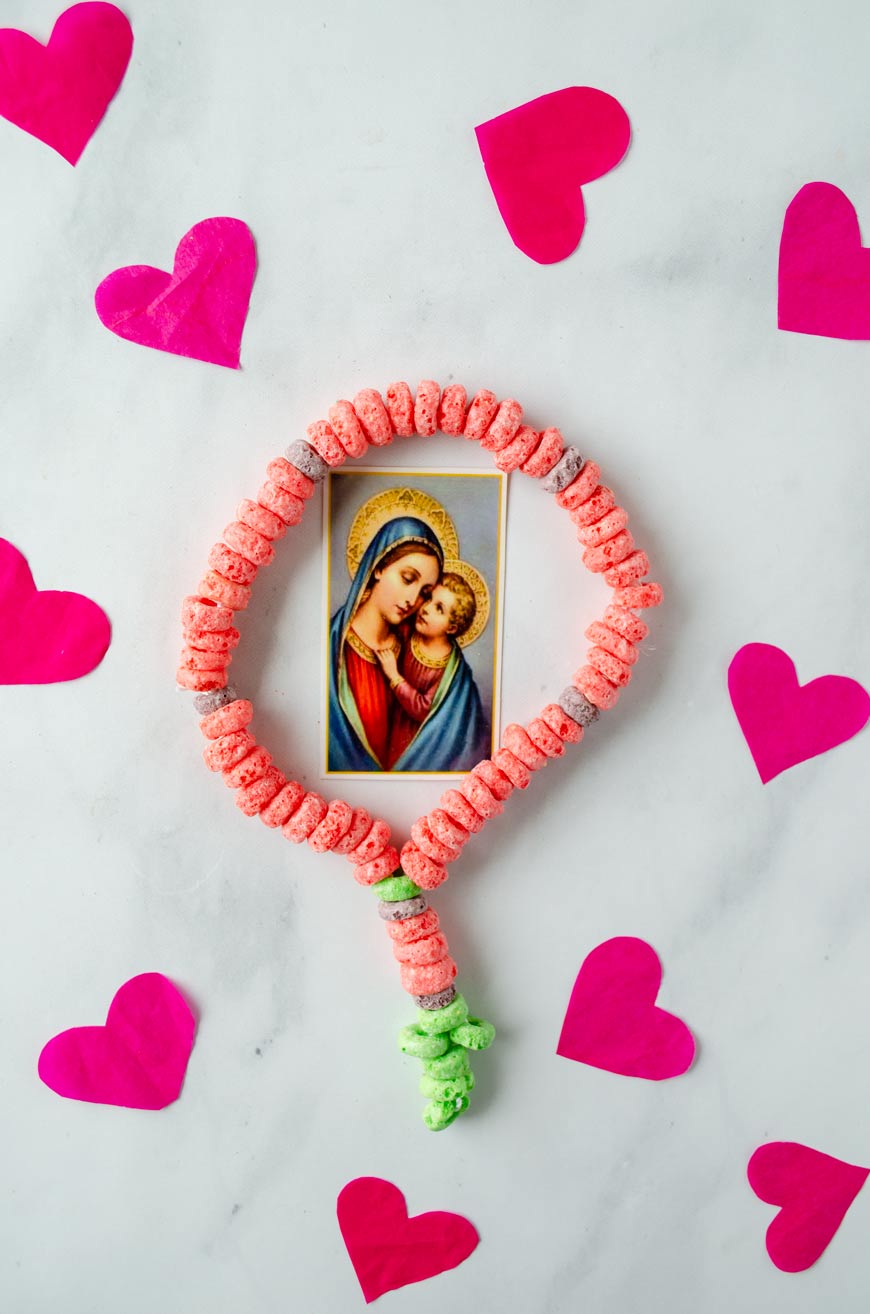 When my son was in Kindergarten at a public school, he came home one day with a Fruit Loop necklace hanging around his neck. On it were strung 100 fruit loops grouped in sets of 10 by color. It was the 100th day of school craft that his fantastic teacher had come up with. And it was my inspiration for these useful, and tasty, Valentine's rosaries as a rosary craft for preschoolers. If Fruit Loops pack too much sugary punch for you, you can go for Multigrain O's or any other circle-with-a-hole-shaped food that comes in three colors or three sizes.
The whole project is perfect as a rosary craft for preschoolers and Kinder-age kids, and the bigger ones are usually willing to help, too. They get to sort by color and work on their fine motor threading skills. They also have to be solid on counting to 10. If they're not, they will be by the end!
To be fair, my kids and I have never actually used a Fruit Loop rosary to pray a rosary, but the making of them has given us plenty of discussion time about what each part of the rosary means and why we pray.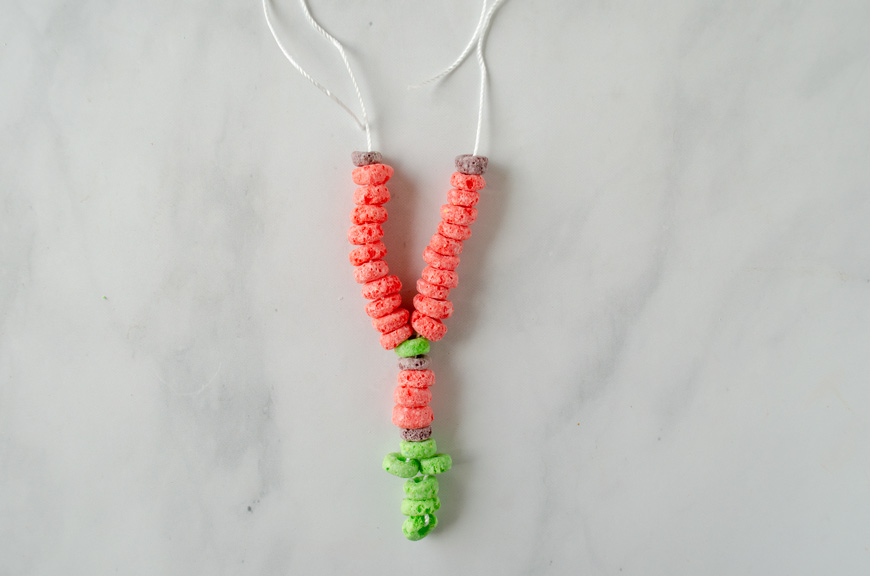 I've also made up a poem explaining how to pray the rosary that you can pack along with it if you give them away as Valentine's at school, which we're doing this year at our Catholic school. If you really want to add some pizzaz, you can spend some dollars and get the rosary on CD from the Mary Foundation or Holy Heroes.
The Project: St. Valentine's Day Rosary Craft for Preschoolers
The project is simple, but time intensive. And if you happen to have a 3 year-old, and a 4 year-old, you'll be able to see the giant difference in fine motor ability that just a year or so makes – not to mention the length of attention span.
St. Valentine's Day Rosary Craft for Preschoolers
St. Valentines Day Rosary Craft for Preschoolers, an easy Catholic crafts to get kids excited about the Rosary!
Materials
53 Fruit Loops in one color for the Hail Marys
7 Fruit Loops in a different color for the cross and Hail Holy Queen
6 Fruit Loops in a third color for the Our Fathers
1.5' string, thin ribbon, or elastic
Instructions
Cut a piece of string, ribbon, or elastic to about 1.5' in length.
Thread on one Fruit Loop. Match up the two ends of your ribbon, and pull the threaded Fruit Loop to the middle.
Keeping the ends together, thread the second Fruit Loop of the same color onto both sides of the ribbon, so that two ends of ribbon shoot out of the top of the second Fruit Loop. Repeat this step with one more of the same color.
Separate the ribbon ends again, and thread one Fruit Loop of the same color onto each end.
Repeat step 3 with just one more Fruit Loop of the same color. Now, you have the cross.
With the ribbon ends still together, add on Our Father Fruit Loop of a different color from the cross, three Hail Mary Fruit Loops of the third color of Fruit Loop, one more Our Father Fruit Loop, and a final Fruit Loop in the same color as the cross for the Hail Holy Queen prayer.
Now, split the ends apart again. Onto each side, thread 10 Hail Mary Fruit Loops, followed by 1 Our Father Fruit Loop. Repeat until you have 5 decades total, separated by Our Father Fruit Loops. Check your count for each decade before moving onto the next. It's easy to miss one or have one to many.
Tie the ends of your ribbon in a secure knot.
Place the rosary in a zip lock bag with the downloadable instructions. To make the instructions more interesting, glue on Fruit Loops in place of the O's. Give away, or use them yourselves for a family rosary on Valentine's Day!