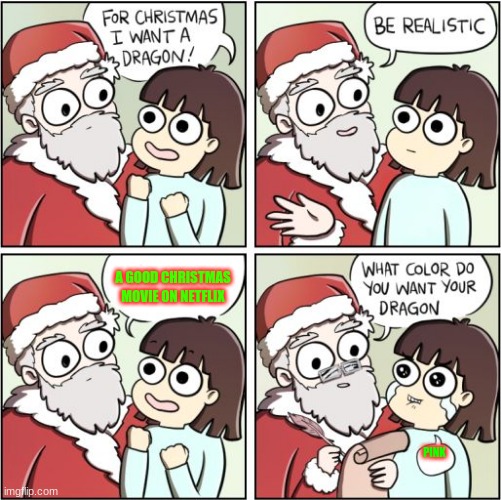 Have you ever had that feeling, while watching a T.V. show or a movie when the truth of Christ hits you when you weren't expecting it. In your heart, the candle of Christ quickly burns a little warmer bringing a smile to your face. That's what "Maria's Mom-Approved Netflix Christmas Movies list" is about.
The following is a short list of a few movies we found on popular streaming platforms that had a similar effect on my daughter Maria. She joyfully discovered somewhere in each of these, the true hope of Christ. Maria decided that these movies get the critic 'mom's' seal of approval.
After all the nitpicking about shows it seems that I've communicated something to the children. A lot of times it's just don't watch something if you find these "bad" things in it. But these movies, we are excited about, not only because we did not find "very bad" things in them but because we found the "very good" thing of the Gospel message.
The Power of a Scene
I had a powerful experience when I was living in New York City. I went to see "The Chronicles of Narnia: The Lion, The Witch and the Wardrobe," during opening week. The theater was filled with fans and movie goers looking for a good Holiday movie. When Mr. Beaver announced to the Pevensie children that 'Aslan is on the move.' It was so impactful and filled my heart with hope as if it called to mind the coming of Christ the Savior to earth. Later on in the movie Father Christmas (Saint Nicholas) arrives and instead of frivolous toys, he gives the children gifts akin to those of the spirit. I will never forget the impact of publicly experiencing the powerful Gospel proclamations in this movie. I could feel the effect, like a wave passing through the entire audience.
Maria's Mom-Approved

Netflix

Christmas Movies
"Angela's Christmas" and "Angela's Christmas Wish" These two short Christmas Movies just fill your heart. Angela's Christmas takes you straight to church and to baby Jesus. We will watch these several times this holiday season, I'm sure.
"All I want for Christmas" Mariah Carrie's holiday cartoon movie is based on a true story from her life. It's a nice realistic Christmas story from a child's point of view. She didn't only sing the song wonderfully, she produced this children's movie well too. In this movie little Mariah has to learn to put others before herself.
"The Christmas Chronicles" and "The Christmas Chronicles 2" There are little hints to theology in this movie regarding a Christmas Star. It's less about magic and more about love. There is still plenty of the silly modern take on Santa and Elves but we can't help feeling there is something deeper in the intention of this movie. It's entertaining and worth checking out.
"Klaus": This movie talks about acts of kindness and how kindness begets kindness. It's a bit deeper than many 'Santa Movies' though it is a bit philosophical in it's storyline and makes you think something serious about love, hope and forgiveness.
"The Star" At first I was skeptical of this B style Nativity movie but I realized it had its place in bringing Christ's Nativity to mainstream. Every age has its own aesthetic and while it might not be my favorite, it speaks to today's audience.
"Home Alone" This movie is not for the youngest in the house with a lot of violence and some language but it does have a moving scene of the young 'Kevin' going to his Catholic Parish to say a prayer before he tackles the bad guys. It might not seem like much but it's something kids see so little of in entertainment today. The main character Kevin, briefly seen hiding in the manger scene before he goes to find some strength inside his Catholic parish.
"Home Sweet Home Alone" This is the 6th and I think, funniest and least stressful of all the Home Alone movies. I reluctantly sat down to this one at my daughter's beckoning. She was right it was a blast and had a hint more of Jesus than expected.
"Scrooge: A Christmas Carol" This is a newly released cartoon musical rendition created by Netflix. So naturally I was skeptical, but this fun and heartwarming movie draws you in. I like that there is a healthy serving of the actual texts from Dickens in the script. It keeps some of the intended depth and conviction meant to change hearts in the original Dickens, more than some other retellings. "There is no later" as the movie states, we need to take time to live rightly. The kids will be entertained and maybe even challenged. "God Bless us, Everyone!" (Note: there is some intense imagery for smaller children with Marley and Ghost of Christmas future.)
A few more Streaming Movie Suggestions
"Curious George: A Very Monkey Christmas" on Hulu. Not so many Christian references but the "Advent" countdown to Christmas and focusing on waiting is a nice element. I find it is a very soothing movie for its pace and songs that we sometimes sing all year long. It's a household favorite.
"The Lion, The Witch, and The Wardrobe" on Disney Plus is a wonderful Holiday movie without it seeming to be. Great for a themed movie night with some Hot Cocoa and of course some Turkish delight. You could even present to the kids a small gift with a Christian theme, when Santa comes.
"Yes, Virginia There is a Santa Claus" is being hosted on Peacock T.V. this year. Starring the iconic American actor, Charles Bronson. This classic story talks about faith and the importance of believing like a child.