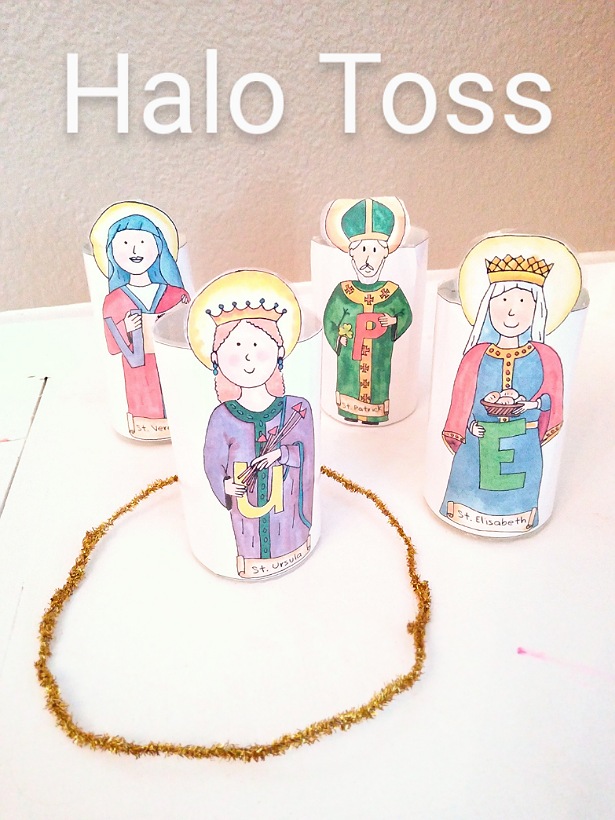 The first year we hosted an All Souls/All Saints Day party for our moms group, I scoured the web looking for brilliant ideas. I of course found CatholicIcing.com and CatholicPlayground.com, as well as a few others. One of the ideas on Catholic Icing used glow stick halos and American Girl-size dolls dressed as Saints for a trunk-or-treat halo toss. Though I have three girls, at the time, none of them had any dolls but Cabbage Patch, and I was in no mood to add to our toy collection or drag out my sewing machine to make doll clothes.
Instead, I opted to pay homage to Catholic Icing by using their ABC Saints as the ones who needed a halo or two thrown their way. I printed out the color versions of these beautiful images, cut and laminated them, and wrapped them around baby food jars. The weight of the jars kept them standing up and in place when glittering pipe cleaners were launched their way.
I made the pipe cleaner halos nice a big so a 3 year-old might have a shot at actually making it. We give them three tries from a line very, very close to the Saints. Sometimes we have prizes; sometimes we forget. Do what works best for your age kids.
Another fun option, if you know your group, would be to make little versions of each of your kids from pictures. Our Catholic school preK teachers make the kids pose for all kinds of things to decorate their doors throughout the year. You could take everyone's picture standing up straight with praying hands the week or two before your party. Print them out in the same format as the ABC Saints, and wrap the images around the jars. Then, the people who need to be canonized with those oh-so-powerful halos are the kids themselves! They could also take themselves home at the end of the event.