With May fast approaching, it's time to turn our eyes toward mothers.
Crowning Mary
First, we have our heavenly mother Mary. May is the month that we as Catholics especially honor and ask for the intercession of Our Lady. Crowning Mary is an old custom that, according to the University of Dayton, can be traced back many centuries. It developed sometime after the first "crowning" recorded by Pope Gregory III, who sent something lovely to adorn an image of the Blessed Mother and other Saints at St. Peter's. The wreath of flowers is not only a declaration of love, but also a ring of prayers. Read Fr. Johann Roten, S.M. explanation for a full account.
For great resources on how to crown Mary with your family, check out Holy Heroes blog post, "How to Hold a May Crowning With Your Kids".
Honoring Our Earthly Mothers
Just as we've adorned Mary with a wreath of prayers, so too, our own mothers should be shown love both spiritually and tangibly.
Prayers and Sacraments
Have a Mass Said: Before you grab a gift card and a flower bouquet this year, stop by your church office and pick a day to have a Mass said for your mother. You can invite her to go with you, you can save her the clipping from the bulletin, or you can send her the livestream link. Many, many different orders also offer registration of names for Masses for a small donation. You can find one such option with the Marianists, the order that founded St. Mary's University here in San Antonio, as well as the University of Dayton aforementioned.
Make a Spiritual Bouquet: Each time you or your kids craft a flower or any of the other items below, pray a "Hail Mary" or other family favorite in honor of the grandmas. Write your spiritual offering in a card or somewhere on the gift you've created.
Dedicate a Holy Hour with your kids to Grandma: Summon your courage and pack up all the kids for an hour of Adoration. You can write your mom or mother-in-law a story about the time you spent there. You could have kids 6 and older do the same, and let the younger ones draw her pictures of what they experienced there. The pandemic has changed many, many operating times, so the best way to double check the availability of Adoration is to call. The Padre Pio Adoration Chapel at St. Luke will be opening this May. Stay tuned to the website and the myParish app for updates.
Pray a Rosary for Mom: Perhaps we all have a pile of rosaries, and maybe that's true for your mother as well. But what grandma would refuse a hand-made one from her granddaughters that was prayed while making it? For families with energetic boys, how about hand-picked rocks, enough for all of the prayers of the rosary. Let them scrub them clean, then leave them as-is, or offer painting supplies. Or maybe one made of coffee beans that benefits less fortunate women? Here's a how-to for kids for rosary making, and one from the Franciscan Friars of the Renewal. You can even find rosary bracelets at some of the shops listed below.

Thoughtful, Religious Gifts and Crafts
Before we list ideas, here are a few of our favorite online shops:
HollyLooYah Designs BrickHouseInTheCity
Holy Water
Don't you miss Holy Water in the church? Now might be just the year to hand some to your Mom, and maybe a lovely Holy Water font, too.(Autom has some nice ones.) Our Faith Formation department passed out bottles of the most powerful H2O on Easter Sunday. You can call your church office and ask for a minute with the priest to bless some water for you.
Wall Art and Home Décor
I've been staring at a few of our blank walls lately, wondering what prayers or images I should affix to them to really ramp up the Catholic feel in our household. Etsy has some AMAZING creations in this genre, as does BlessedIsShe.net. A few years back, I made these JPGs thinking I might one day put them on canvas. These are shortened definitions of Faith, Hope, and Charity straight from the Catechism. And this one is a hand-drawn Memorare.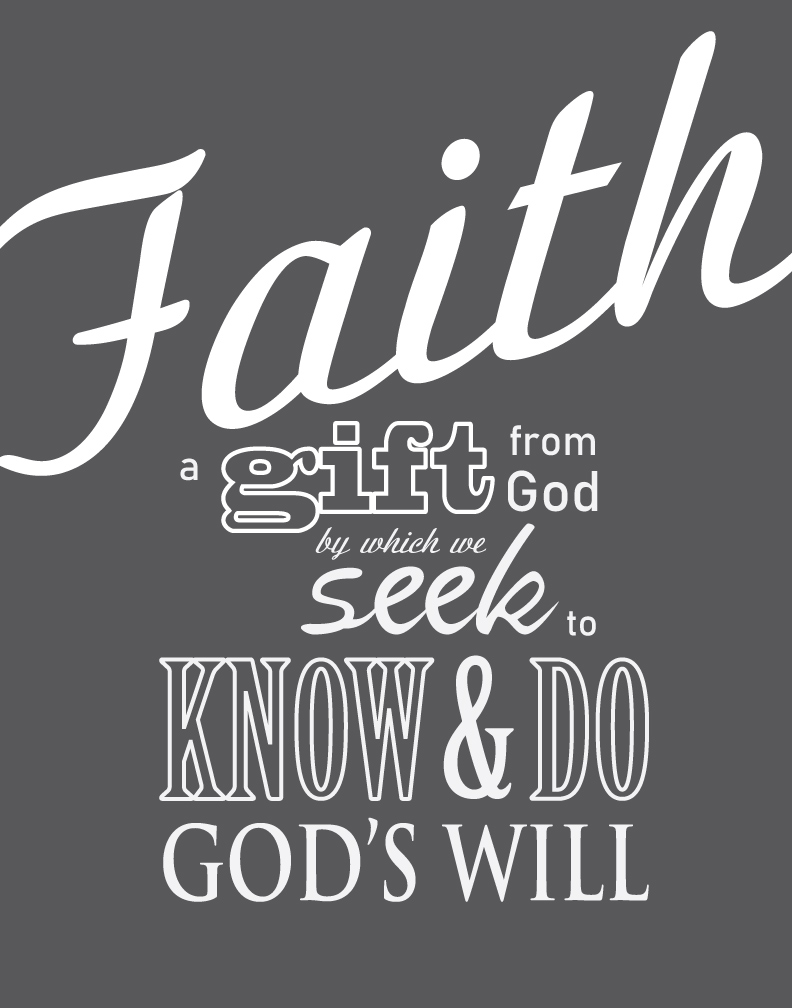 To craft a prayer instead, you can draw up the words in some gorgeous fonts on canva.com for free. Then, download the PDF, print it out, and trace it by hand onto good paper. Let the kids decorate the edges. Add a nice frame in your mom's colors, and you've got something she can keep for a long time.
Our favorite artist/mom, Megan Maloney, also suggested letting the kids finger paint light switch covers with acrylic paints.
Flowers
There's just no way to not think of flowers when Mother's Day comes around. It just so happens that we at CraftyCatholicMoms had "need" of some of those giant paper flowers. Now you reap the benefits with this free template download. For assembly, you can go to Sweet Red Poppy, where we first found free templates. The ones above were inspired by theirs. Resize as you need! For Easter around our house, we decided to try out the Cricut for making Easter lilies that would fit on a pencil. You can email us at [email protected] for that file.
You could also grow flowers for your mom. How cool would it be to hand her something you and the kids cared for? Or, you can make her a lovely wreath of flowers for her door. Make it Catholic by adding a Miraculous Medal or other image of Mary. Remember, wreaths are meant to be a reminder of God's never-ending love.
Food
If you're thinking of giving your mom chocolates or coffees for Mother's Day, don't forget that our professed religious brothers and sisters often make those items to sustain their orders. Consider coffee from VocationBoom, MysticMonkCoffee, or AbbeyRoast. You can find all kinds of foods at monasterygreetings.com and serrv.org.
Good Books
This Lent, our Catholic moms group decided to read, These Beautiful Bones. It was absolutely the right call. The book looks at JPII's Theology of the Body in terms of the everyday. It's both uplifting and engaging. The Imitation of Mary by Alexander De Rouville is my go-to book for giving to women. It has concise reflections written in conversation style between Mary and any person on earth. It's a wonderful reminder of Mary's example to us of perfect human love lived out as a mother. Most of our group is currently in love with Theology of Home, a book written as a reflection on the importance of the Catholic home and it's trappings, with sublime pictures, of course. Or, you can get her a membership to Well-Read Mom.
One Christmas, my husband found the perfect coloring book for our daughter. It's put out by Pauline Media, and has gorgeous images of Mary throughout.
You can also turn your kids drawings into a custom coloring book. Have them draw things just for grandma on white paper. Then trace their work with an extra fine point Sharpie and scan it. You can send the PDF pages to an office supply store or other printer to be printed and bound. Professional customized coloring books are available, too, using some of your own photos.
Speaking of, don't forget photo books, especially for grandmas who haven't seen the grandkids. For a laugh, you could put the kids in the same position in the house, with masks, in different changes of clothes for a couple of pages. But really, you could include photos of your kids' artwork in with the mix of photos. That way, Grandma gets to keep the book, but she doesn't have to keep up with all the paper.
Cards
The photo above is a giant card we made last year. All the yellow is made of hand prints. The brown center is a collage of cutout hearts. Here's a card I put together on canva.com, and here's a blank rose card for the Cricut or other cutting machine. Many of the websites above also have some great cards. One last kid favorite from my own children was traced and cut out handprints that had a long, accordion-folded piece of paper in between. On the hands, it said, "I love you this much!"
Clothing and Jewelry
Several of our favorite sites have fantastic assortments of oh-so-Catholic tees and pendants . . .and bracelets, and earings, and just about anything you could think of with Catholic messages! From funny to inspirational, there's really something for every style.